01. Hey Jude - The Beatles.
02. Love is Blue - Paul Mauriat.
03. Honey - Bobby Goldsboro.
04. (Sittin' On) The Dock of the Bay - Otis Redding.
05. People Got to Be Free - The Rascals.
06. Sunshine of Your Love - Cream.
07. This Guy's in Love With You - Herb Alpert.
08. The Good, the Bad and the Ugly - Hugo Montenegro.
09. Mrs. Robinson - Simon & Garfunkel.
10. Tighten Up - Archie Bell & the Drells.

Le prime dieci della Billboard annuale.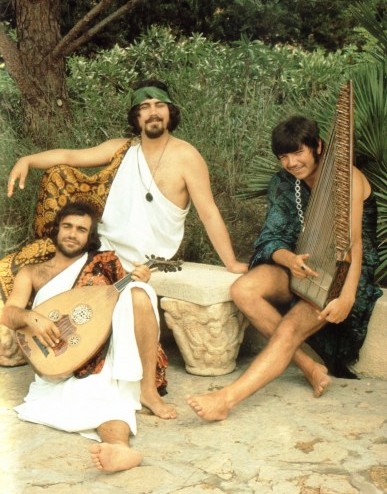 La nascita del rock nell'antica Grecia.

La canzone più bella fu The dock of the bay di Otis Redding, il quale non fece in tempo a cantarla dal vivo, poiché morì in un incidente aereo subito dopo le prove. Ne lasciò solo una registrazione imperfetta, ma suggestiva, che i suoi discografici seppero sfruttare bene, grazie alla disgrazia. E il povero Redding raggiunse, da morto, quella vetta che da vivo aveva solo sfiorato.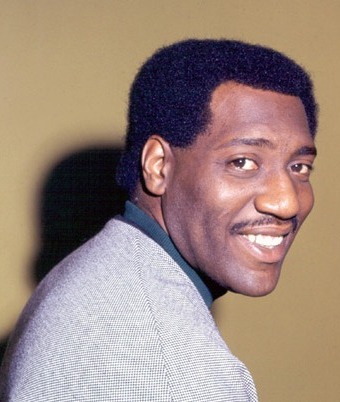 Otis Redding

A gennaio i Pink Floyd introdussero nella loro band un quinto elemento: David Gilmour, in vista dell'eventuale sostituzione di Syd Barret, che dava sempre più frequenti manifestazioni di pazzia. Da quel momento lo stile del gruppo cambiò progressivamente. I puristi dicono che divenne più commerciale e rimpiangono Syd, in realtà la qualità migliorò decisamente. A distanza di quarant'anni, trovatene uno che, quando non lo vedono, ascolti i Pink Floyd delle origini e non quelli del periodo "classico". Nello stesso mese gli Steppenwolf prepararono l'essenziale per Easy Rider: Born to be wild.



First In, First Out.
In quel periodo in radio e in pubblicità furoreggiava la frase iniziale di In-A-Gadda-Da-Vida. Ad Iron Butterfly, Euterpe aveva concesso solo una sequenza di dieci note, ma lui ne aveva fatto una canzone di mezz'ora da vendere soltanto come LP. Insopportabile, oggi come allora.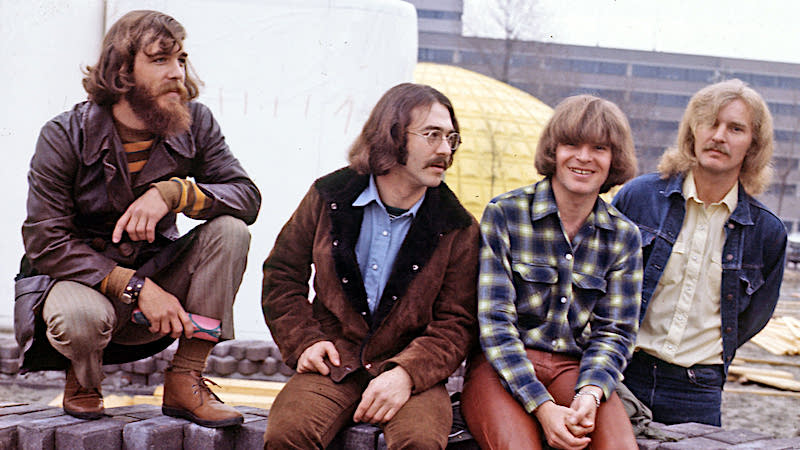 Creedence Clearwater Revival

Suzie Q trovò finalmente il giusto riconoscimento quando i Credence Clearwater Revival la proposero nel loro primo album e tutti pensarono che fosse nuova. I Cream, i Buffalo Springfield, gli Yardbirds, gli Animals si sciolsero. Anche i Beatles cominciarono a litigare e i coniugi Goffin divorziarono. Vediamo se ora potrò cantare! – pare abbia pensato Carole King, il giorno del divorzio.

Altre canzoni del 1968
1910 Fruitgum Co. – Simon says
Adriano Celentano – Azzurro
Enzo Jannacci – Vengo anch'io. No, tu no
Lucio Battisti – Balla Linda
Patty Pravo – La Bambola
Rokes – Lascia l'ultimo ballo per me
Sylvie Vartan – Comme un garçon
Yves Montand – À bicyclette

Due album con tante belle canzoni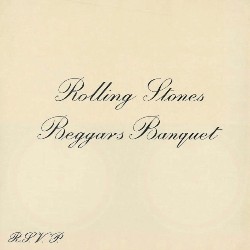 Beggars Banquet:
1) Sympathy for the Devil;
3) Dear Doctor;
6) Street Fighting Man;
7) Prodigal Son;
8) Stray Cat Blues;
9) Factory Girl;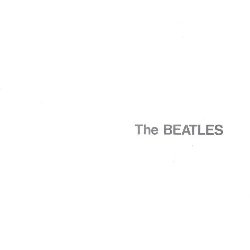 White album:
Back in the U.S.S.R.;
Ob-La-Di, Ob-La-Da;
The Continuing Story of Bungalow Bill;
While My Guitar Gently Weeps;
Martha My Dear;
I'm So Tired;
Blackbird;
Rocky Raccoon;
Don't Pass Me By;
Julia;
Birthday;
Sexy Sadie;
Honey Pie;
Cry Baby Cry;

Successi del 1968
Aphrodite's child – Rain and tears
Aretha Franklin – Think
Arthur Brown – Fire
Barry Ryan – Eloïse
Beatles – Back In The U.S.S.R.
Beatles – Birthday
Beatles – Don't Pass Me By
Beatles – Hey Jude
Beatles – Honey Pie
Beatles – Lady Madonna
Beatles – Ob-La-Di, Ob-La-Da
Beatles – Revolution
Beatles – Rocky Raccoon
Beatles – Sexy Sadie
Beatles – The Continuing Story of Bungalow Bill
Beatles – While My Guitar Gently Weeps
Bee Gees – Massachusetts
Canned Heat – Going up the country
Canned Heat – On the road again
Creedence Clearwater Revival – Susie Q
Equals – Baby come back
Georgie Fame – The Ballad of Bonnie and Clyde
Iron Butterfly – In-a-Gadda-Da-Vida
Janis Joplin – Piece of my heart
Manfred Mann – The Mighty Quinn
Marvin Gaye – I heard it through the Grapevine
Mary Hopkin – Those were the days
Merrilee Rush – Angel of the morning
Moody Blues – Ride My See Saw
Ohio Express – Yummy, Yummy, Yummy
Otis Redding – (Sittin' on the) Dock of the Bay
Paul Mauriat – Love is blue
Peter Holm – Monia
Rolling Stones – Jumpin' Jack Flash
Rolling Stones – Prodigal Son
Rolling Stones – Sympathy for the devil
Simon & Garfunkel - Mrs. Robinson
Sly and the Family Stone – Dance to the music
Ten Years After – I'm Going Home
Tom Jones – Delilah
Tommy James & the Shondelles – Crimson & Clover
Tommy James & the Shondelles – Mony Mony
Turtles – Elenore

Film del 1968
2001: Odissea nello spazio (2001: A Space Odyssey), di Stanley Kubrick. Allora sembrava profetico, oggi pretenzioso.

Hollywood Party (The party), di Blake Edwards. L'attore indiano Peter Sellers, invitato per sbaglio al party del produttore, gli distrugge la casa. Quasi il più grande film di tutti i tempi.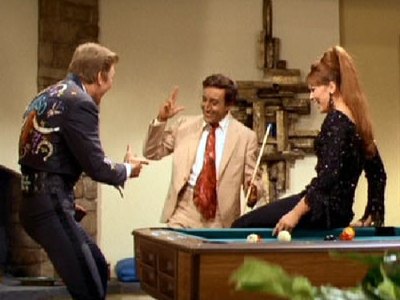 Hollywood party

La strana coppia (The odd couple), di Gene Saks. Walter Matthau accoglie in casa l'appena separato Jack Lemmon. L'inizio di un lungo sodalizio cinematografico.

Appuntamento sotto il letto (Yours, Mine and Ours), di Melville Shavelson. Con Henry Fonda e Lucille Ball. Il matrimonio tra due vedovi con tanti figli.

Oliver, di Carol Reed. Con Hugh Griffith, Oliver Reed. La storia di Oliver Twist. Musicale, ma gradevole, a patto di non vederlo in italiano.

Il medico della mutua, di Luigi Zampa. Alberto Sordi in una benevola satira del sistema sanitario nazionale.

Per favore non toccate le vecchiette (The producers), di Mel Brooks. Zero Mostel e Gene Wilder producono uno spettacolo per Broadway cercando l'insuccesso.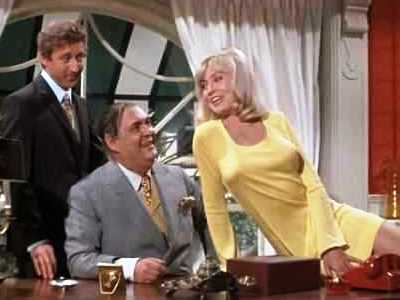 Come mai toccate le vecchiette?

Joe Bass l'implacabile (The Scalphunters), di Sydney Pollack. Telly Savalas ruba le pellicce a Burt Lancaster, ma Lancaster è una capa tosta e le rivuole indietro. Discreto.

Marginali: Rosemary's Baby di Roman Polanski; Bullitt, di Peter Yates; Il pianeta delle scimmie; Straziami, ma di baci saziami; Chitty Chitty Bang Bang; Il caso Thomas Crown; La ragazza con la pistola;
Da cinefili, e ho detto tutto: Ciao America (Greetings), di Brian De Palma, con Robert De Niro.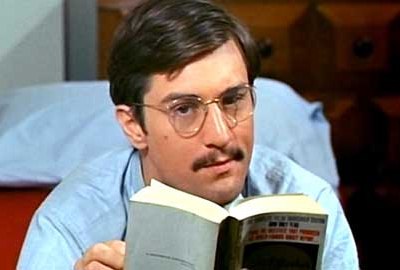 De Niro coi baffi.

Gli appassionati di Peter Sellers (come me) possono invece tralasciare l'insulso Lasciami baciare la farfalla (I Love You, Alice B. Toklas) di Hy Averback, con Peter Sellers.