Il Rockabilly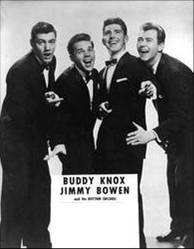 Jimmy Bowen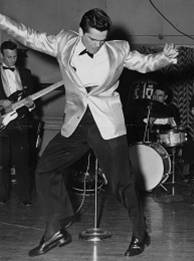 Roc LaRue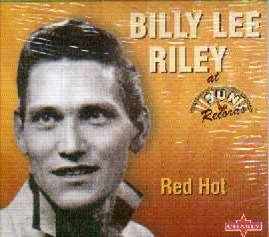 Billy Lee Riley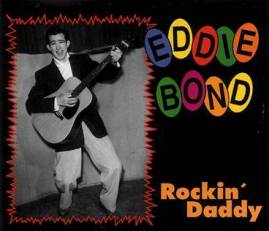 Eddie Bond
Il '57 è l'anno di maggiore successo del Rockabilly, una parola derivata dall'unione di Rock 'n' Roll e Hillbilly.

Hillbilly era un termine derisorio usato per chiamare i montanari degli Appalacchi e, in senso generico, significava cafone di campagna. Musicalmente connotava la parte più rustica del country, ma la parola smise di essere usata per ragioni di correttezza politica. Il termine Rockabilly è invece sopravvissuto a denotare questa musica che ha genealogicamente tre quarti di country ed un quarto di blues.
Per un orecchio non allenato, è difficile distinguere il Rockabilly dal Rock 'n' Roll, ma può aiutare guardare la faccia dei cantanti. Infatti, per una forma di razzismo inconfessato, la quasi totalità dei suoi musicisti è bianca e viene dagli stati del sud. Anzi hanno proprio la stessa faccia.

Il suono è un po' più aspro e ritmato del rock ed era spesso usato per ballare lo stroll, in cui i ballerini si muovono non a coppie, ma in righe (riprendendo movimenti tipici dei balli country).
Segue un elenco di esempi significativi e gradevoli del rockabilly dell'epoca. Si noti che il genere, sia pure sotto traccia, è vivo ancora oggi. Per rendersene conto, basta andare a Senigallia al Summer Jamboree, per ascoltare sia i moderni epitomi, sia alcuni dei dinosauri qui elencati.
Big Al Downing - Down on the farm.
Big Al Downing - Oh babe!
Billy and Don Hart - Rock a bop a lina
Billy Lee Riley - Red hot
Billy Lee Riley – Rock with me baby
The Billys - Drinking wine spo-dee-o-dee
Corky Jones - Hot dog
Carl Perkins – Matchbox
Eddie Bond - Rockin' daddy
Gene Dunlap - Made in the shade
George Weston - Don't stay home with the blues
George Weston - Hey little car hop
Hank Swatley - Oakie boogie
Harmonica Ray - Grits
Huelyn Duvall – Comin' or goin'
Huelyn Duvall - Friday night on a dollar bill
Huelyn Duvall - Pucker paint
Jackie Lee Cochran - Hip shakin' mama
Jimmy Bowen - My baby's gone
Jimmy Lloyd - Rocket in my pocket
Joe Maphis - Water baby boogie
Johnnie Strickland - She's mine
Johnnie Strickland - You've got what it takes
Johnny Rivers - Baby come back
Johnny Rivers - Long long walk
Johnny Rivers - One man woman
Johnny Rivers - That's Rock'n' Roll
Ray Harris - Come on little mama
Roc LaRue and the Three Pals - Baby take me back
Roy Orbison - Ooby dooby
The Four Teens - Spark plug
The Jordanaires - Warm beer in the morning
The Rock-A-Teens - Story of a woman

---
Pubblicato il 3 febbraio 2009; ultima modifica il 25 novembre 2011.

Nel 2020 ci sono stati accessi al sito;
le pagine degli anni 50 sono state visitate volte.